6th International Conference on Islamic Applications in Computer Science and Technologies
(IMAN 2018)
20 – 23 December 2018
Kuala Lumpur, Malaysia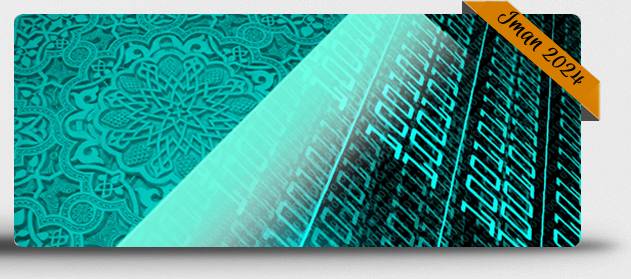 Workshops & Tutorials
Workshop on Creating a digital educational Arabic content
Prepared by:
Dr. Zuheir Khlaif, Phd from Indiana University, United States. Working currently in Ministry of Education, Palestine.
Summary
Recent studies published by UN and UNESCO the there is a lack on digital Arabic content compared with other languages such as English and Chinese. It is around 5% until the end of 2017 (UNESCO, 2017). The purpose of this workshop is to introduce the procedures of Arabic digital creation and publish it on various platforms to be available for Arabic readers. The audiences of this workshop are people who are working in Education, Media, Health, business, etc. After the workshop, we expect that you will be able to:
- Identify the concept of Arabic digital content
- follow the specific steps of Digital content creation
- Publish digital content.
-----------------------------------------------------------------
Seminar on A Polymorphism Based Watermarking Algorithm for Authentication of Digital Holy Quran
Prepared by:
Dr. Ali Mohammed Mansoor İs a senior lecturer at Department of Software Engineering, Faculty of Computer Science & Information Technology, University of Malaya, 50603 Kuala Lumpur, MALAYSIA
Summary
Authentication of digital Quran becomes an emerging issue because the current digital Quran that is mostly in web applications is unverified. Moreover, falsifying some parts of Quran's verses where the readers are unable to validate the verse, whether it is correct or fake, due to an inadvertent typo or on purpose exploit. Therefore, a digital watermarking technique is considered interestingly to facilitate the authentication and detection of the e-text holy Quran forgery. We proposed polymorphism watermarking algorithm to coordinate multi-watermarking algorithms to work collaboratively. Polymorphism approach can overcome the limitation of attacking sensitivity of a single algorithm and also to assure a robustness method due to the importance of the text. Numerous related watermarking algorithms have been introduced to handle text watermarking. In this work we utilized the Kashida extension features with the simple method which inserts spaces between and /or the end of words. We coordinate multi-watermarking algorithms to work collaboratively by polymorphism watermarking algorithm to reduce the complexity and enhance the robustness of the system.