5th International Conference on Islamic Applications in Computer Science and Technologies
(IMAN 2017)
26 – 29 December 2017
Semarang, Indonesia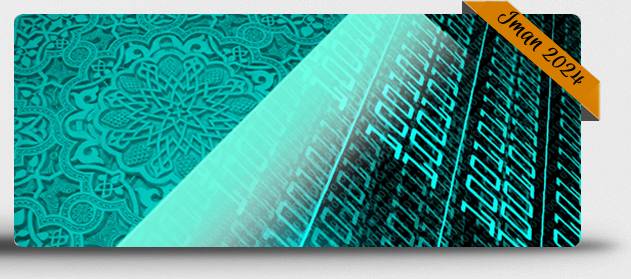 Keynote Speakers
Keynote Speaker 1
Prof Adit Kurniawan, Ph.D
Modern Information and Communications Infrastructures: Technological perspectives
Media and digital technology plays a very important role and has influence on almost every aspect of our lives. Over the last two decades, our lives have been slowly taken over by technology. Our Wi-Fi-enabled gadgets have changed the way we work, play, and even practice our religion. Today's offices would be unrecognizable to workers, and replaced by emails, video conferencing, tablets, laptop computers, and other most recent innovations. Meanwhile, more and more of our personal time is influenced by our gadgets/smartphones. Now religious materials are available online, religious leaders have websites, blogs and twitter feeds.This talk aims at presenting basic and general knowledge of information and communication tehnology, from a viewpoint of technological and infrastructures backrounds, which enables different users develop and produce various applications that we can use now. The presentation will begin with brief history, growth, and evolution of telecommunication and information technology, particularly the internet. Then we will present most recent updates of technology and requirements that is required to support today need of media applications, which is then followed by brief elaboration of the challenges and opportunities for future requirement of media infrastructures and technology. The talk will end up with the summary and short discussions.
Biography:
Prof. Kurniawan completed his undergraduate degree in Electrical/Telecommunication Engineering, Institut Teknologi Bandung, Indonesia in 1986. He completed Masters in Telecommunication Engineering, Royal Melbourne Institute of Technology, Australia in 1996, and completed Ph.D in Telecommunication Engineering, University of South Australia in 2002. Adit Kurniawan is currently professor at the School of Electrical Engineering and Informatics, Institut Teknologi Bandung. His research interest covers antenna and radiowave propagation, spread spectrum and wireless communications systems.
Keynote Spreaker 2
Ahmad Showail, PhD
Zayer: Online Marketplace for Islamic Tourism in Al-Madinah Al-Munawarah
It is currently very difficult for Madinah visitors to reach professional tour guides who they can trust in getting historical information about the beloved city of Madinah. Nowadays, the annual Hajj and Umrah visitors (pilgrims) are around ~10 M. According to Saudi vision 2030, this number should hit 30 M by 2030. Linearly speaking, this means ~1.4 M extra visitors/year for the next 14 years in row. Zayer is an online tour-guide marketplace that helps Madinah visitors to book private tours to historical/islamic attractions in Holy Madinah. The visitor can now easily reserve a private car or a big bus, choose a guide of his/her choice (out of many licensed ones), and select any of 9 different short-tours that collectively cover more than 100 attractions in Madinah including ~10 museums. Zayer can also take the visitors to islamic locations outside Madinah such as the battle of Badr (that is half-day drive away from Madinah). Thus, Zayer, similar to Uber, is a multi-sided platform/online marketplace/matchmaking engine that is based on peer-to-peer/sharing "platform" economy (rather than a typical "pipeline" based business).
Biography:
Dr. Ahmad is the dean of the College of Computer Science and Information Technology at the University of Prince Mugrin (UPM) in Madinah, Saudi Arabia. Prior to joining UPM, he was an assistant professor of Computer Engineering and the vice dean of the College of Computer Science and Engineering at Taibah University. He also was the Head of Technology Incubators at the Vice Presidency for Business and Innovation of Knowledge at Taibah University in Saudi Arabia. Dr. Ahmad is the founder and the CEO of a tech startup company called Zayer. Dr. Ahmad holds a BSc (Hons) '05, from King Fahd University of Petroleum and Minerals, MSc and PhD from King Abdullah University of Science and Technology. While at KAUST, he was the recipient of the Academic Excellence Award (top 5%). Before joining KAUST in 2009, Ahmad was a system engineer with SABIC. Dr. Ahmad published several papers in top journals and magazines and filed a US patent. Dr. Ahmad's research focuses on Quality of Service in wireless networks. As a student, he was a summer intern at Texas A&M University, Saudi Aramco and the University of Oxford.
Keynote Speaker 3
Dr. Khaled Bakro
Developing a System for Optical Recognition of Arabic Font
This speech will introduce a robust developed system for recognition of digital Image to Arabic text document in, depends on Segmentation algorithms are new and developed by using accurate and simple processing of the digital image, through special structural morphological functions for binary images, where it is give us paragraphs, lines, and words segmented, and access to images of accurate Segmented characters.
We select and discuss a limited set of Statistical Features a rigorously derived , can be used to define the character in a single, unique way and design of mathematical encoding is new and accurate to extraction and representation functions of these features, these functions are effectively with the types and sizes of the Arabic characters that have been selected for the study, the features are arranged in the vector that have a fixed length, where each feature has a site in this vector. We calculate features vector for each character through his image to produce a features vector from right to left.
The experimental results have given good accuracy, and achieve minimal character Error Rate (CER) of the font multi-sizes, without using of calculations that need long time, where our results are true 98% for the recognition of characters. these results opens the way for use it in many different areas, and most the important in Arabic optical Character recognition and systems.

Biography:
Dr. Bakro is a dean of the Faculty of Science and Information Technology, Tulip Science & Technology Education Academy in Istanbul, Turkey. He received his Ph.D. in Computer Engineering, Digital Image Processing in 2013 from Aleppo University, Syria. He has published more than 20 papers in international journals and conferences, in addition to 2 books. He founded the science of the miracle of numerical codes in the Holy Quran, discovered the Binary Code, zeros and ones for the Holy Quran. His research interests are Arabic language processing, natural language processing, digital image processing, e-learning, scientific miracles in the Holy Quran.