9th International Conference on Islamic Applications in Computer Science and Technologies
(IMAN 2021)
4 – 5 December 2021
Online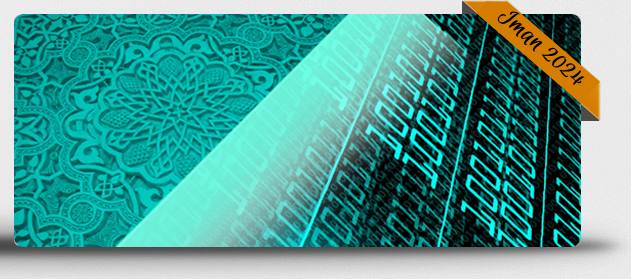 Keynote Speakers
Keynote Speaker 1
Prof. Dr. Mohamed Ali
Scalability, availability, reproducibility and extensibility in Islamic Database Systems
In this talk, Prof. Dr. Ali will address his team's efforts in the QuranResearch.Org system that aims to provide the space and tools that ease, support and integrate the efforts of researchers in Quranic research. QuranResearch.ORG provides a public backend database server that contains an indexed representation of the Quran text in addition to a set of general-purpose tools and packages to perform counting, searching and analysis of the Quran text. QuranResearch.ORG invites Researchers to issue their queries against our public backend database server and to, then, retrieve/analyze/share their results through the system's frontend. QuranResearch.Org is designed to serve as a "wiki" style repository for the results that researchers would obtain from their efforts in Quranic research.

In QuranResearch.ORG, researchers can issue their queries through the QuranResearch.ORG website and count on the backend server to run their "possibly" long-running queries, then, notify the users once the results are ready. No need for hardware or software installation on the researcher's side. The query and results are publically available for the system's users for reproducibility and credibility concerns. The system aims to support true claims around "numeric miracles in Quran" with concrete numbers and, meanwhile, refute false claims that are bare of truth. The system provides a highly indexed representation of the Quran text that speeds up the search and analysis of the Quran text. The system aims at scaling up to multiple concurrent users performing long-running queries on the Quran text. The system is designed for developers who are comfortable with their programming skills and who are willing to use these skills in Quranic research. This website is expected to be the "Wikipedia-like hub" that lists all the results from the collected efforts of the community of Quran researchers in one central place. The website is expected to build a network of researchers in the field, where they can communicate, provide feedback and collaborate in research related to the Quran text.

Biography:
Prof. Dr. MOHAMED ALI is a professor at the School of Engineering and Technology, University of Washington, Tacoma (UWT). In 2007, Mohamed received his PhD degree in computer science from Purdue University. Mohamed's research interests include Data Science, Big Data Systems, Database Management Systems and Spatiotemporal Databases. In 2006, Mohamed joined the SQL Server group at Microsoft and, in 2011, Mohamed started another journey in Microsoft Bing Maps where he tackled various types of spatial search queries. While at Microsoft, Mohamed has been also an affiliate professor at the University Washington where he taught database, data streaming and GIS classes. In 2014, Mohamed joined the School of Engineering and Technology, UWT as a professor of computer science and systems. Mohamed has interests in applying various database and data mining technologies to serve Islamic and Quranic research. Therefore, Mohamed has started the QuranResearch.Org website to provide the space and tools that ease, support and integrate the efforts of researchers in the fields of: Textual Analysis, Numeric Analysis, Linguistic Analysis and Natural Language Processing (NLP) of the Quran text.
Keynote Speaker 2
Prof. Dr. Mohammad Said Desouki
Exploitation of Deep Learning and Neural Networks Techniques in Islamic Arabic Texts Processing
There is a huge volume of Islamic Arabic texts in different sites and libraries around the world, and in different electronic forms. Some of them are in the form of images and PDF files, which need big efforts and long time to edit and to take advantage of their valuable information. In this format, information cannot be indexed in search engines to be retrieve it easily. Other texts exist in editable format but have very large volume so they need to be summarized or clustered to topics by their contents to be useful.
Today, many Deep Learning technics are used to train Neural Networks on data sets containing solved problems, to find later solutions to new problems provided by other data sets. Recently, many applications used these techniques in Natural Language Processing, and more specifically in Arabic Language Processing.
We try in this speech to make insights on how to take advantages of these new technics in Islamic Arabic Applications processing huge volumes of Islamic Arabic texts in different formats. We worked before on many researches in this domain using these technics, like researches on Arabic Text Summarization and Arabic Texts Authorship Attribution on which we published a paper in the previous IMAN conference titled "Simulating the Application of Authorship Attribution for Hadith Sharif Texts".
We work now on building an Offline Handwritten Recognition system to recognize texts written in Historical Arabic Islamic Documents to transform it to transcripts of editable texts that can be indexed and searched easily, using an incremental learning approach and using a deep learning neural network that takes some pages that were recognized manually to learn how to recognize other pages.
Biography:
Prof. Dr. Mohammad Said Desouki has a Ph.D. in Computer Engineering. University Grenoble France 1997. He was certified for reciting Quran in 2007 and supervisor of Quran Recitation in Al-Firdous Mosque in Damascus.
He is a Full Professor, Head of the Informatics department at the Informatics and Communication Faculty in AIU the Arab International University, Syria. And Instructor of Algorithms, Databases, and Compilers Courses.
He has a great experience in research, teaching, and publications in the domains of Arabic Language Processing, Text Mining, and Information Systems. He supervised many Graduation, Master and Ph.D. in these domains. He participated in building the Interactive Arabic Dictionary in HIAST Damascus Syria in collaboration with the city of King Abdul-Aziz in Riyadh KSA, and building many systems for Arabic Language Processing like Morphological Analyzer and Name Entity Recognition.
Dr. Desouki is a member of the International Liaison of the International Conference on Islamic Applications in Computer Science and Technologies, IMAN since 2013. He Published many research papers in the previous International Conferences of Islamic Applications in Computer Science and Technologies, IMAN like "Applying Multi-Level Documents Clustering to Quran Text", "Origins of Steganography in the Arabic and Muslim World: Evidences from the Arabic and Islamic Heritage", and "Simulating the Application of Authorship Attribution for Hadith Sharif Texts".

Keynote Speaker 3
Prof. Dr. Roslina Othman
Self-Help Maqam-based Search System for al-Falah (SUFIS)
A self-help maqam-based search system, SUFIS, aims to guide people achieve happiness and success in the hereafter according to their personal pace by following the advice and words of wisdom categorized into seven spiritual states, known as seven maqam. Maqam refers to a noble position or a degree of spirituality. This system development is in line with the fundamentals echoed in the call for prayer, Hayya 'alal Falah. This system applied finite state model with triggers and transitions to each of the seven maqam constructed based on the words of wisdom in Alchemy of Happiness and The Path of the Worshipful Servants to the Garden of the Lord of All the Worlds. Both were books authored by Mohammed al-Ghazali, known as al-Ghazali. The positive and negative semantic-based attributes were extracted from both publications to be formulated as triggers and transitions and to be mapped onto relevant maqam. The self-learning materials relevant to each maqam were added for self-improvements. The system also has feedback features for ensuring the reliability and validity of the triggers. The system has been explored by 200 people for their states of spiritual happiness and success during the first and second phases of development. The system offers a set of metrics in the form of triggers to build a happiness and al-Falah index that would contribute to the World Happiness Report of Muslims journeying into al-Falah.
Biography:
Prof. Dr. Roslina Othman is currently the Head, Semantic Body of Knowledge and Technology Research Unit, IIUM. She is the Vice-Chairman for Pecamp (2021-2023).
She has taught at University of Bahrain, Bahrain and at Jazan University, Saudi Arabia. She was a Visiting Professor at Hanoi University of Culture, Vietnam, and was appointed as Adjunct Professor, Swinburne University of Technology Sarawak Campus.
She has been fully sponsored under the EU Grant FP7 to present her proposal on semantic-based search engines, and under FP7 and H2020 to participate and contribute to forums on ERA-AGE and INNOVAGE in Brussels, Vienna, and Sweden focusing on active and healthy aging. She has been an International Reviewer for Qatar National Research Foundation. She has been a consultant for Bridging Gender Digital Divide Workshop for NAM Institute Empowerment of Women (NIEW) involving women at executive level from 30 nations.
She has expertise in semantic technology (taxonomy and ontology), bibliometrics, misinformation, fake news, and knowledge analytics. She has been a principal and a co-researcher for research grants under MoHE, MOSTI, and Ministry of Health Malaysia. She has led international grants from Pinnacle Management, Jeddah, Saudi Arabia, and projects under Ma'arifah Sdn Bhd.
Roslina is the Founder for WiSeMantiQ® search engine, Maqam-based search system, and Malik Bennabi's Novelty Ruler and TRIZ. She has received INNOPAC Special Award (Gold Medal) from Indonesia; MTE's Gold Medal; Medals at the University level, and Medals at the International levels such as ITEX09. In 2005, she received the Emerald's Highly Commended Paper Award. Her book, Trends in Information Retrieval System (2009) has been used as the textbook and reference book at several universities locally and internationally. She has presented her papers at conferences and delivered invited talks in many countries. She was invited by the Deputy Prime Minister in 2019 to deliver the talk on Muhajirin-Ansar Model for Refugees. Currently, she and her team are working on the second phase of the doa and zikr al-ma'thur project for counselling at schools in Malaysia as part of her work on Happiness Index.

Keynote Speaker 4
Mr. Mohamed Khalil Ashour
The Role "Midade" Plays in Serving the Qur'an and the Da'wah Content
We aim from this talk to present the most important achievements of the Midad Foundation in the service of the Noble Qur'an and Sharia sciences. Midad Foundation aims in its first message to work on communicating the Muhammadan message to all races and languages. So our priorities were to extract all our works in multiple languages with various methods and media using sound and visual effects. Midad works on the main bases of Dawah content:
First: The production of content, which is in accordance with the correct Dawah approach and disciplined faith, compatible with the requirements of society, and addressing the most popular and common issues according to the vision of Islamic Sharia.
Second: Content design, which is in accordance with scientific and technical standards, and is a multimedia form of visual materials (pictorial, two-dimensional, or three-dimensional) or audio materials (represented by a Dawah podcast) or readable materials (such as an interactive e-books)
Third: Publishing content through professionally made software platforms with sound technical standards or marketing landing pages, as well as e-marketing work on social media platforms.

Biography:
Mr. Mohamed Khalil Ashour is a founder and director of (Rasoulallah.net), which is the biggest website introducing Allah's Messenger Muhammad, Peace Be upon Him, in 14 languages.
Mr. Ashour is also the founder and director of Midade for Information Technology, which is a leading company in the field of IT since 2005, it works in the following fields: website development and management, creation of Maqara' systems and virtual educational academies, mobile application development, documentaries, educational videos and motion graphics production and e-marketing.
Development & Project Management Director @ Osoulcenter.com
Winner of several awards in competitions such as:
the award for the best electronic application (Nakhtim نختم) in the Armed Forces competition of the Kingdom of Saudi Arabia in the field of the Holy Qur'an apps in 2018
Sheikh Salem Al-Ali Al-Sabah Informatics Award, as the best website in the Arab world supporting Allah's Messenger, offered by the State of Kuwait in 2008.
The second place in the Holy Qur'an Hackathon in Saudi Arabia 2021 for developing the (Quran Assistant الصاحب القرآني) application.
- the First Prize of the Best Arabic Website Organized By (Internet Arab World /PC Mag)
Keynote Speaker 5
Dr. AbdulSattar Mohammed Khidhir
Qibla Direction Determination: PC, Smart Phone and Internet Applications
There is a need for every Muslim to know approximately the direction of the qiblah during his daily situations whether in travel, during work, or in his daily visits to various sites inside and outside cities.
As for the institutions specialized in building mosques and the architects and construction engineers, they need to know the exact direction of the qibla.
Various applications on computers and smart devices, as well as on the Internet, provide the above two options with different appearances and various techniques depending on the sensor techniques of smart devices or astronomical calculation and other methods.
Biography:
Assistant Professor at Northern Technical University (Mosul / Iraq)
Place of work: Technical Institute - Mosul / Department of Computer Systems Technologies since 1991
He holds a PhD in Communications Engineering from the University of Mosul
Worked in the Scientific Research Council / Space and Astronomy Research Center for the years 1982-1991
He completed more than 40 researches in various fields of engineering, computing and astronomy.
Supervised and still supervising many MSc and PhD theses.